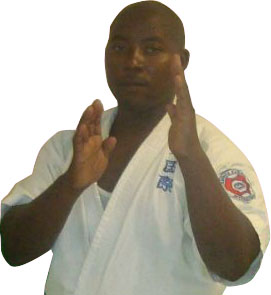 Born at the mountains of Otterford in Hankey, the home of the Khoi San and the legendary Sarah Baartman. My love for karate started when I was nine years old whilst doing grade 3 at Vukani Primary in Hankey. During break times at school, I used to play karate fighting with other learners.
In 1993, I was playing karate with my four friends, ZUKILE RIXANA, ANDILE PETER, ELVIS PLAATJIES and his younger brother MARTIN PLAATJIES at Nquwe street, when a man by the name of Bonakele Tyombo came to us and took us to his house. He showed us Ashihara Karate's Shoshinsha Ichi and that was the start of my karate training, or so I thought.
I spent my time more as a trainer than being a student because Mr Tyombo was staying in Humansdorp during the week and in Hankey on weekends and school holidays, and as a result he left me in charge of the club. I was still a child and only a white belt. In December 1993, I went to Uitenhage and met the senior instructors for the first time. They were Senpai Michael Jibiliza, Godfrey Khume and Siphiwe Pram. In 1995 as a blue belt I attended our inter club tournament in Uitenhage and by 1996 as a yellow yellow belt, I was fully in charge of the club as MR Tyombo was no longer training. In 1997 as a Green belt I attended the AKI annual invitational karate championships at UCT in Cape Town and saw Kaicho for the first time face to face. In 1999 as a brown belt I once again attended the invitational karate championships, but by that time I was the only one still training of my four friends who started with me.
In 2000 I was diagnosed with a heart murmur, but that did not stop me from training and I carried on training to the best of my ability. In 2010, I opened a small branch in Longmore, a farm situated about 28 km from Hankey. In 2012, my heart problem worsened and I had to undergo a major heart procedure at Groote Schuur Hospital in Cape Town, where I was visited by Kaicho and where I spoke to him personally for the first time in my life.
Since that time, I stayed in regular contact with Kaicho and he sent me several training aids and material. That helped me grow the dojo and in May of 2014, together with 10 students, I attended the tournament and winter camp in Cape Town. In September of 2014, I opened another branch in Patensie and finally, in December of 2014, at the summer camp in Cape Town, I tested for shodan black belt. That journey took me 21 years, but due to no blame on any of my instructors. After meeting Kaicho in person, I have progressed considerably – obtained my Nidan (2nd Dan Black belt) and have started to travel Internationally with Kaicho teaching some of our members in Minsk in October 2017.