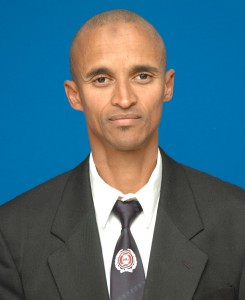 Gakiem started training at the Ashihara Honbu dojo in 1988. During this time period he has travelled to Swaziland, Botswana, Zimbabwe and the Seychelles to teach seminars to affiliated member schools. He had spent a period of three years as a full time instructor, worked for a while and then went back to full time teaching. He had also taught for three months in the Eastern Cape.
Gakiem has competed in many Full Contact tournament, always placing in the top three. He tested for his Shodan in 1992 and for his Sandan in 1997 by successfully completing the 100 person kumite (with six others).
In 2010, he was awarded Godan.